Exploring Indigenous Ways of Knowing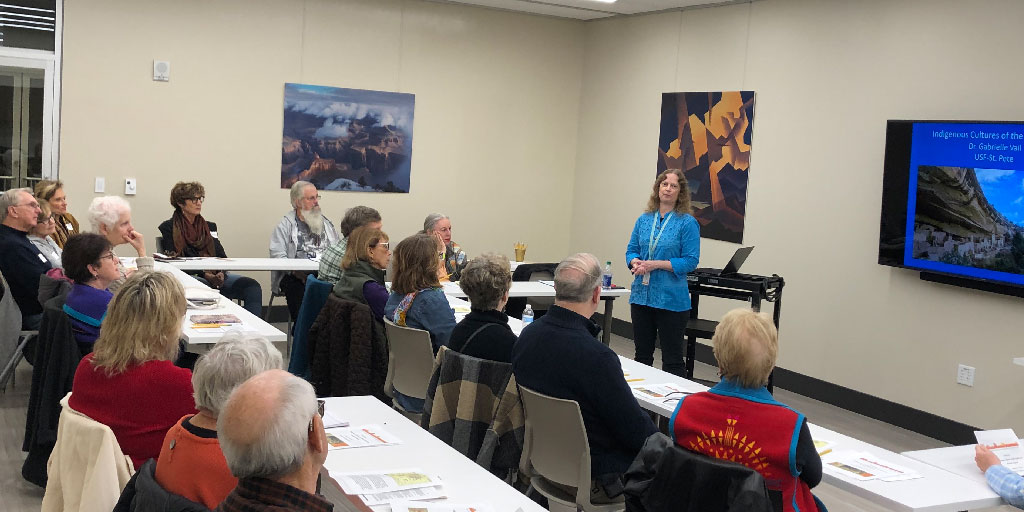 Learn about indigenous worldviews, cultural practices, and unique ways of knowing in this lifelong learning course offered by Dr. Gabrielle Vail in collaboration with indigenous storytellers, artists, and educators of Cherokee, Diné, K'iche', and Q'eqchi Maya descent.

The course will be organized around the following themes, which will also be emphasized in a series of public events taking place on Tuesday evenings in October and early November: the role of language in preserving a group's traditions, cultural knowledge, and relationship to the natural world; indigenous knowledge systems embedded in arts, music, and performance; indigenous astronomies; and indigenous relationships to the land. These will be complemented by short readings, film clips, virtual conversations with Native scholars and educators, and discussions led by Dr. Vail.

The fee for this series includes four course sessions as well as admission to four public programs on the following dates:

Course sessions: Oct. 14, 21, 28, and Nov. 4 from 1:30 to 3 p.m.
Public programs: Oct. 12, 19, 26, and Nov. 3 from 6 to 8 p.m.­

Pertinent questions to be explored include: How do indigenous people living in a variety of different places and speaking different languages experience and understand the world around them? What roles do stories, music, and ceremonies play in the transmission of this important cultural knowledge? What unique contributions does indigenous knowledge make to science and to Western worldviews?

Exploring Indigenous Ways of Knowing presents lifelong learners with a unique opportunity to learn new ways to think about issues of ecology, astronomy, and worldview.
Oct. 14, 21, 28 & Nov. 4 @ 1:30-3 p.m.
Space is limited; registration required.